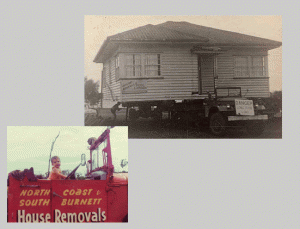 Owned and operated by Jamie Larsen, Burnett House Removals brings to you over 75 years of family history and experience in the house removal industry.The Larsen family have been involved in the business of moving houses since the early 1930's when Jamie's grandfather, Percy Larsen, established a house removing business in Kingaroy.
Jamie has a wealth of experience in all matters of removals. Boats, houses, sheds….you name it – Jamie has moved it.
We endeavour to continue our proud family history by providing quality service to all our clients.
RAVE REVIEWS
We have many customers who have been extremely happy with our work and the outstanding effort that Jamie puts in. Here are some comments we have received and past customers that have been so impressed with his work.
"I want to thank you both for the great job you did when you shifted the Glenferna from Maleny/Landsborough Road to the Maleny Historical Village. Brian McFarlane, the owner of the property from where Glenferna was removed, wants Jamie to know that his professionalism was so appreciated."      From Desley, Maleny Historical Society
"The Scouts Group have specifically asked me to pass on their thanks to Jamie and they are extremely happy with the work completed"    From Catherine Schofield, Scouts Qld.
SOME PAST CUSTOMERS THAT HAVE RAVED ABOUT JAMIE'S WORK ARE:
Jim Dunn – South Burnett Regional Council
Neil & Jenifer Maher – Burrum Heads
Greg Witt – Burrum Designer Holmes
Dawn Rogers – Moore (moved two houses for Dawn)
Jim Barclay – Maidenwell Observatory Kingaroy
Bruno – Byrant Kingaroy Police Station
Natasha McLean – Gladstone
Fabienne & Warrick Wintle – Agnes Waters
Collin & Robin Dellaway – Windera
Dave Eaton – Blackbutt & District Tourism & Heritage Association
Jane Mott & Ray Abernethy – Nanango
Imelda Mangan – Burrum Heads
Peter & Carolyn McDonald – River Heads
Matt & Deb Emery – Baloogie
Tony & Ang Arbuckle – Durong
Peter & Liz Beavis – Kumbia